" GerTent "
(A tent for glamping)
Please send us your comment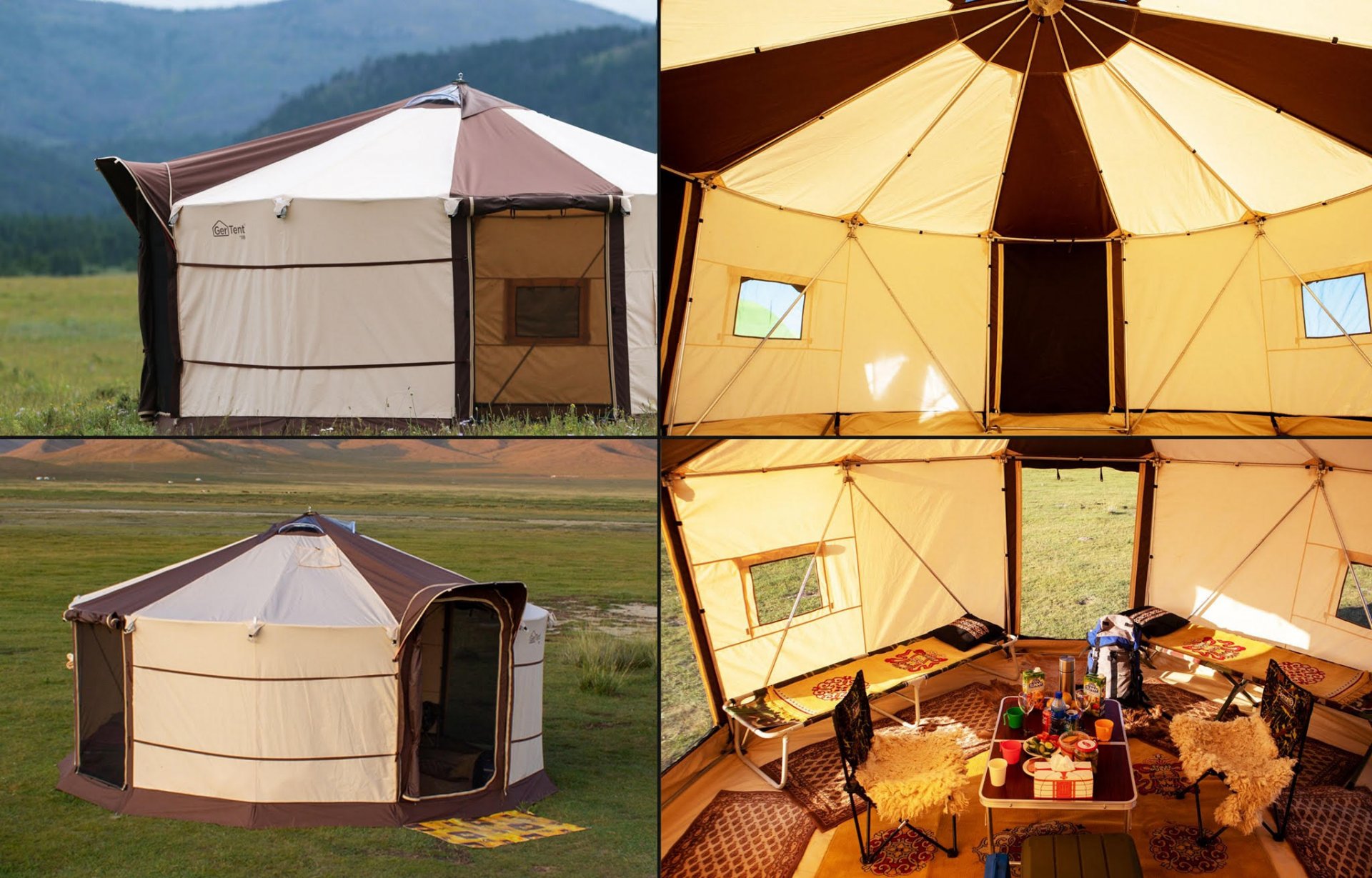 The most durable and comfortable four seasonal glamping tent
The most durable and comfortable four seasonal glamping tent based on Mongolian Ger technology with 3,000 years of history. GerTent has the best features of both Mongolian ger and modern tent. It offers comfortable living space that is round and strong stability of Mongol ger and simple portability of modern tent.
GerTent can be assembled in 10-15 minutes by two people. As for the materials used for production includes aluminum 6061 for the metal parts, Poly cotton canvas for tent cover, 540 gsm ripstop PVC for the floor. We've successfully tested the tent against strong winds of the great plains of Mongolia.
As for the design, we've picked the round circular shape of the Mongolian ger which allows it to withstand strong winds due to its shape. In addition, the round shape allows better insulation for warmth, even distribution of light, and comfortable living space.
Further, we've included the wooden joint mechanics of the ger into our product to withstand wind and rain with ease.
The Mongolian Ger is a portable shelter with a unique architectural structure that was introduced 3,000 years ago for easy transportation with quick assembly and disassembly process.
It is a sturdy structure with round shape which provides comfortable living space. Because supporting posts along with wooden joints and ropes create a strong structure, Mongolian Ger can be used throughout four seasons with additional felt insulation.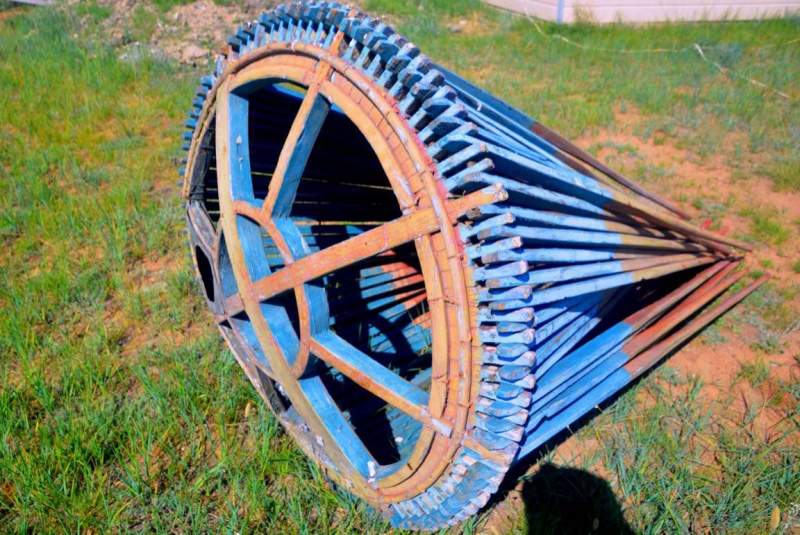 We are introducing you a brand –new travel product GerTent that has the best features of both Mongol ger and modern tent. It offers comfortable living space that is round and strong stability of Mongol ger and simple portability of modern tent.
During our travel in 2017, we've experienced a powerful rainstorm that flattened our tent with water flooding and strong wind which forced us to spend the night in a nearby nomad's ger and wait for the storm to pass. Mongolia has four seasons with extreme weather conditions. Because of the steppes and flat landscape, it is no surprise to have strong wind blow. However, the Mongolian Ger we stayed in didn't have any issues due to its structure and round shape. From that night, we've decided to create a travelling tent that is as sturdy and comfortable as Mongolian ger.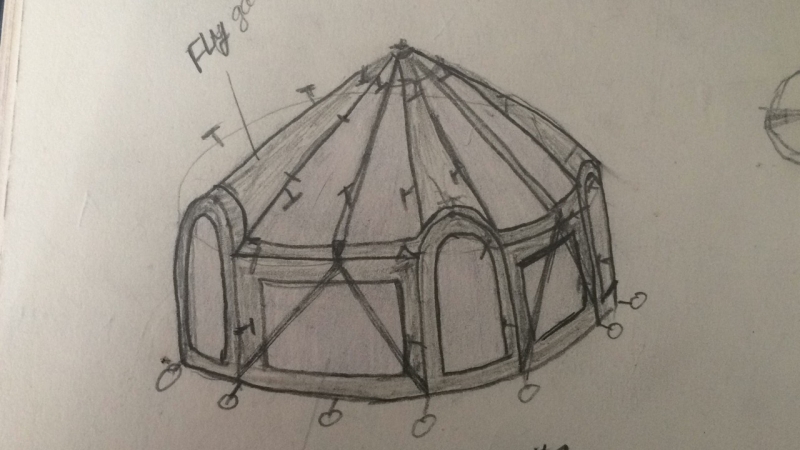 First sketch by hand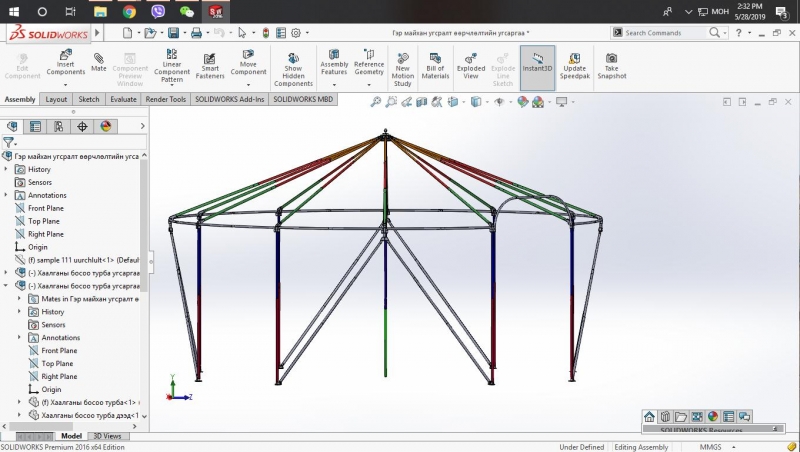 Cad design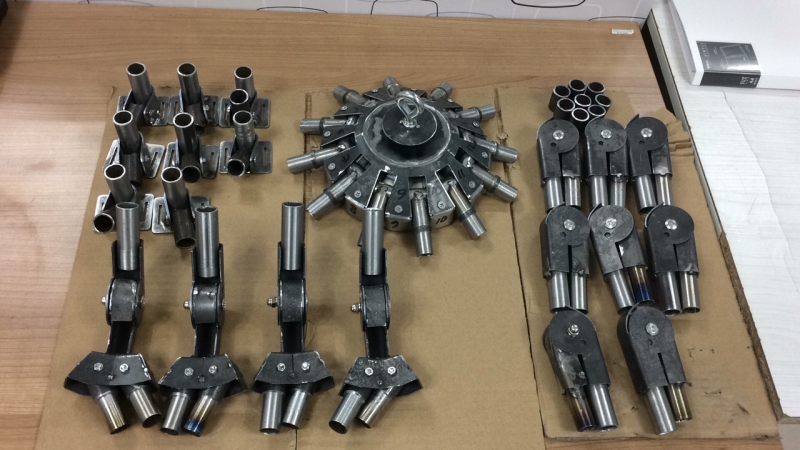 First prototype of all parts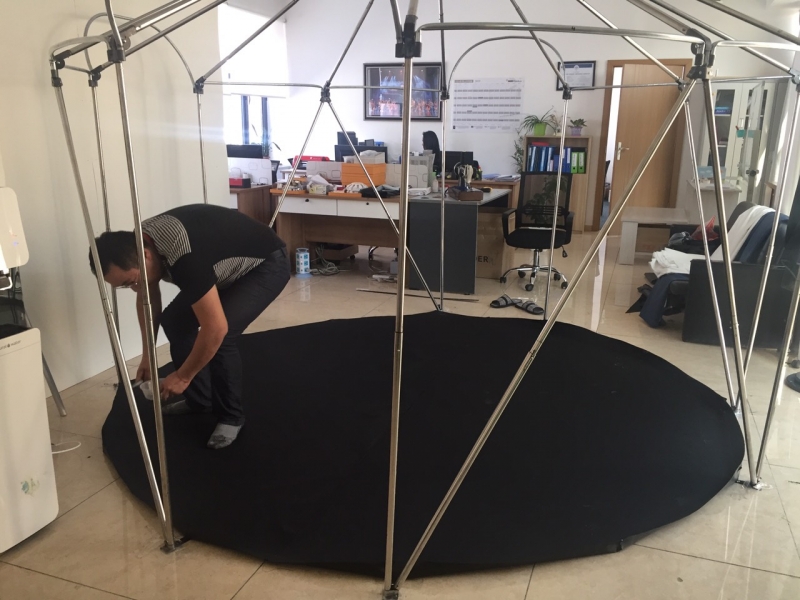 Making prototype frame and all parts of myself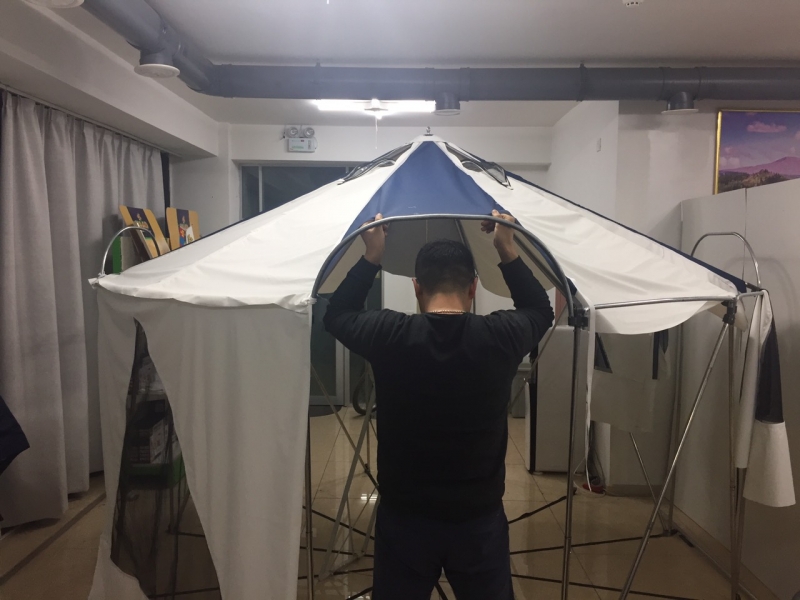 Sewing first outer cover design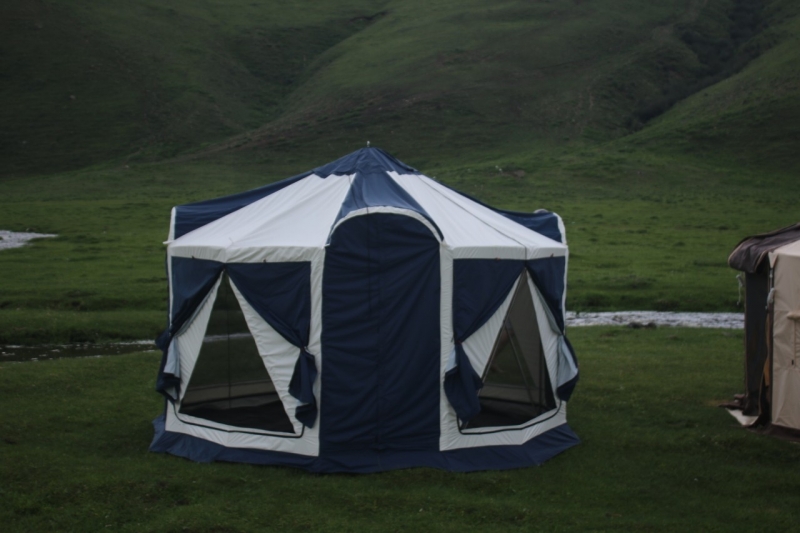 First prototype is ready. It is 3 meter (9.8 ft) diameter.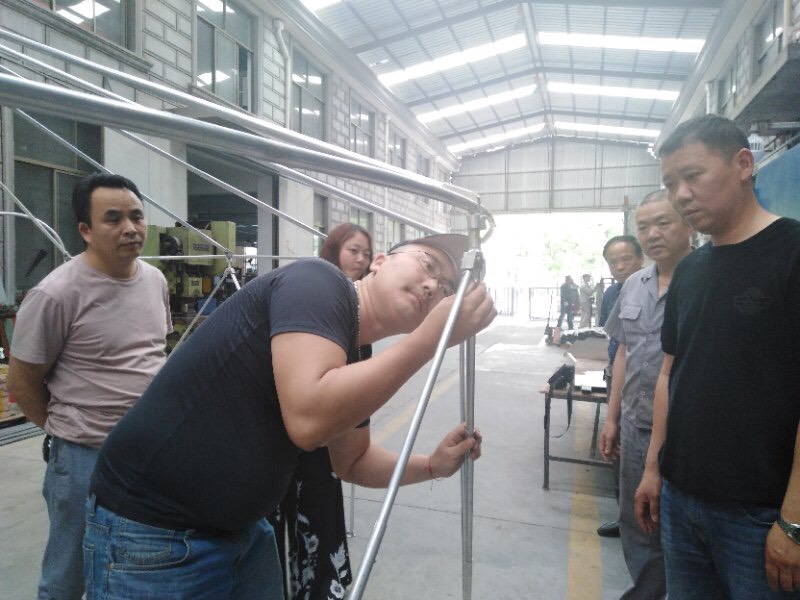 In Shanghai factory. Testing aluminum parts.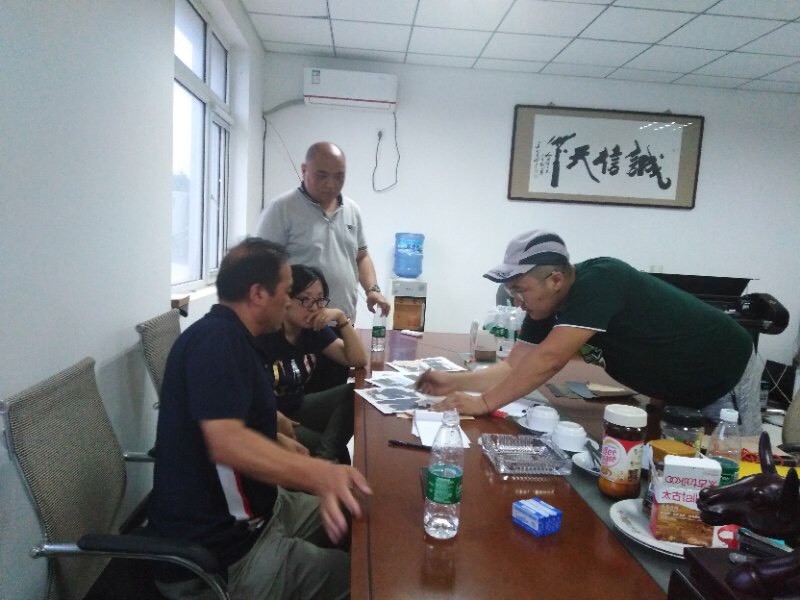 In Tianjin factory. Final design checking.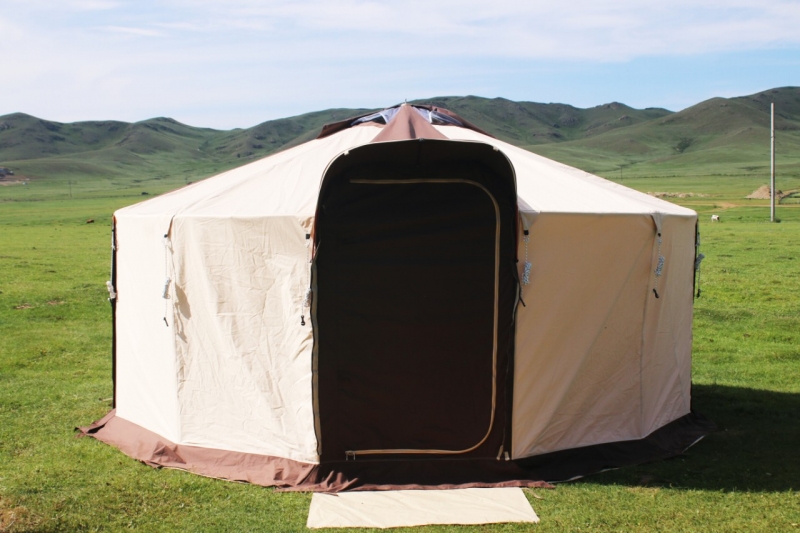 Final prototype GerTent Basic model.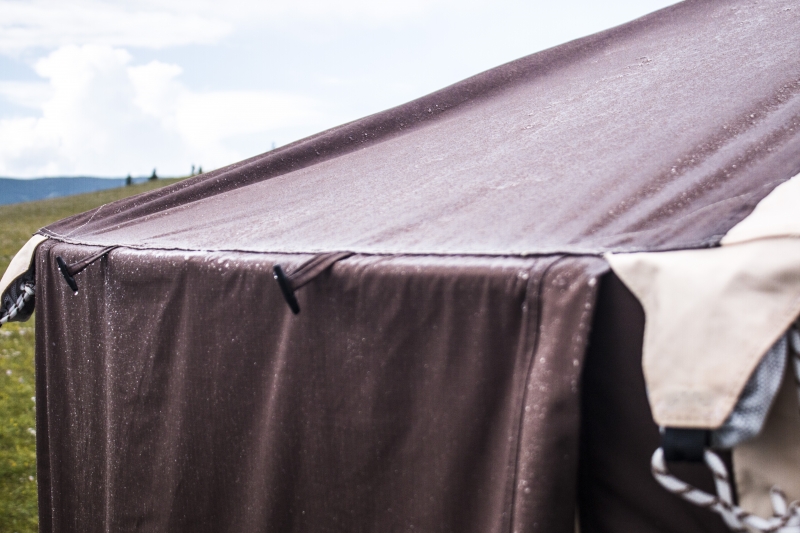 Summer and Autumn test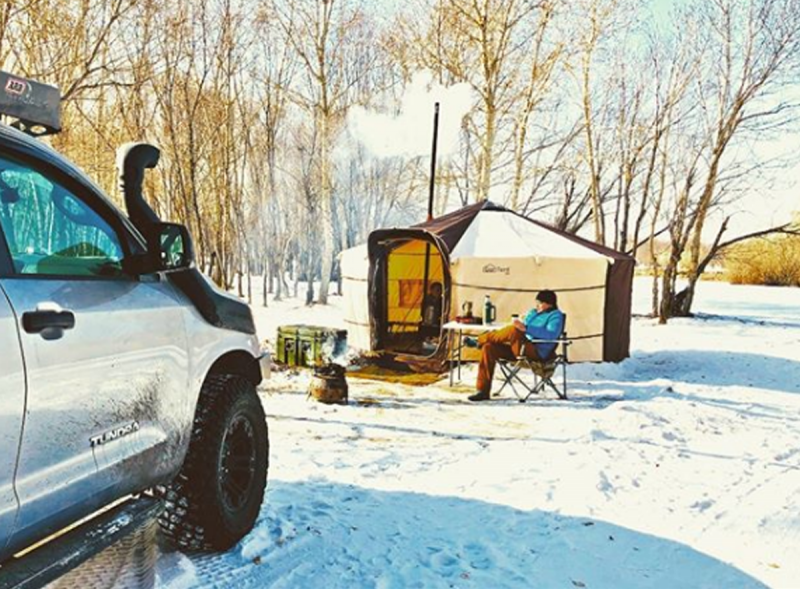 Winter test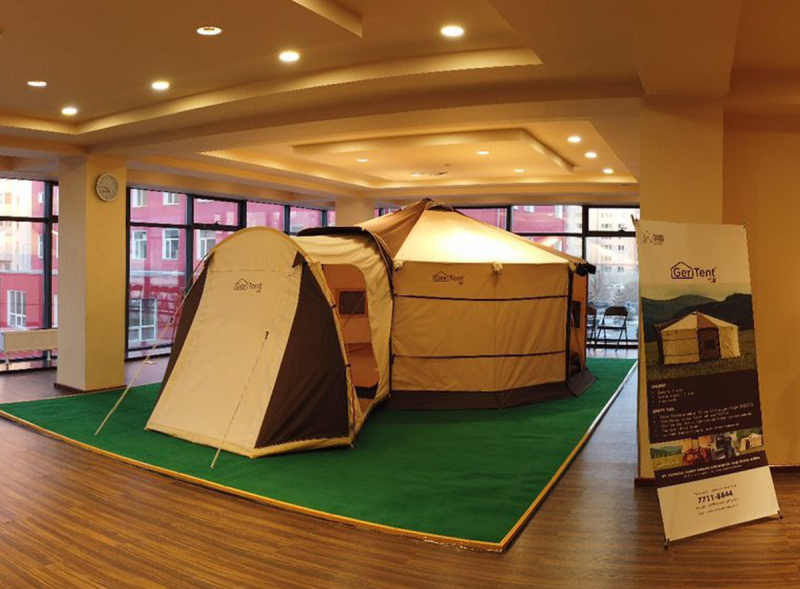 GerTent showroom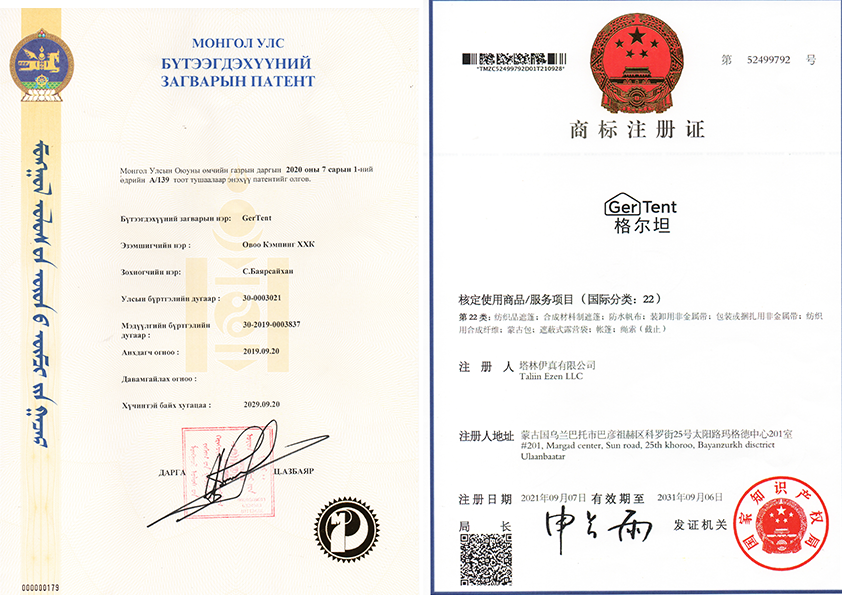 Product design and trademark patent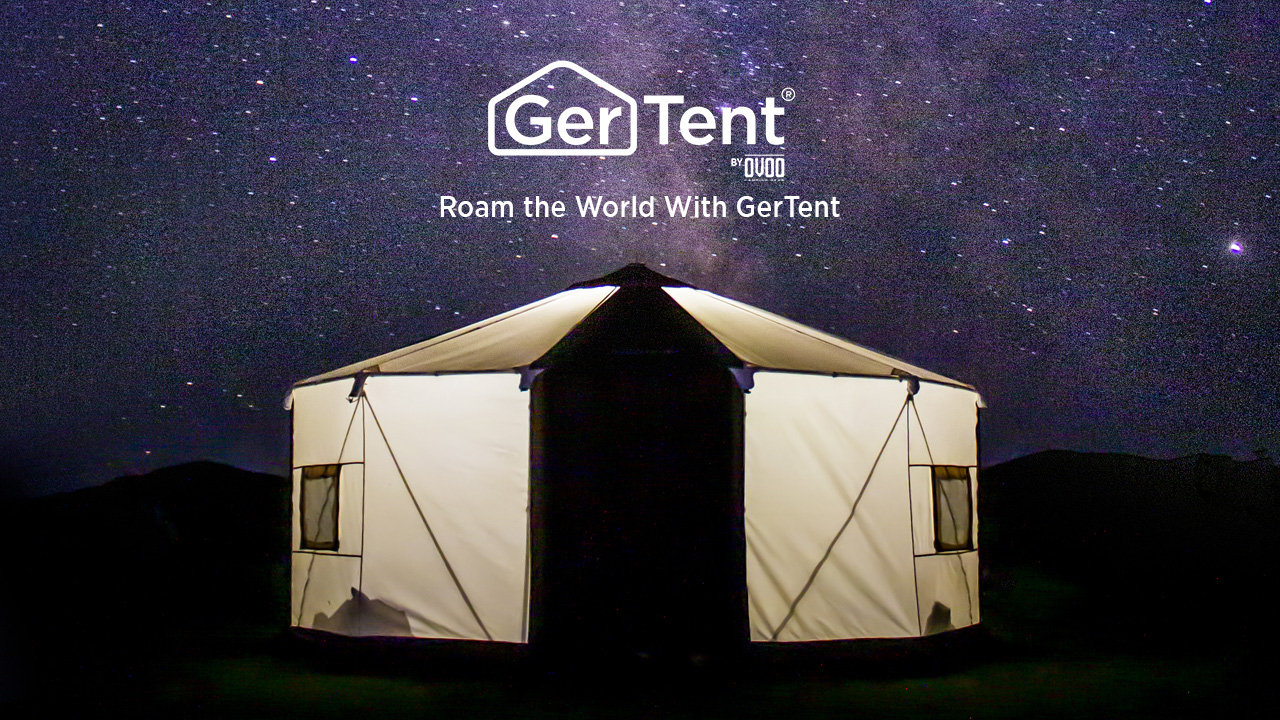 Successful crowdfunding campaign
(We are working to deliver our products by 2022)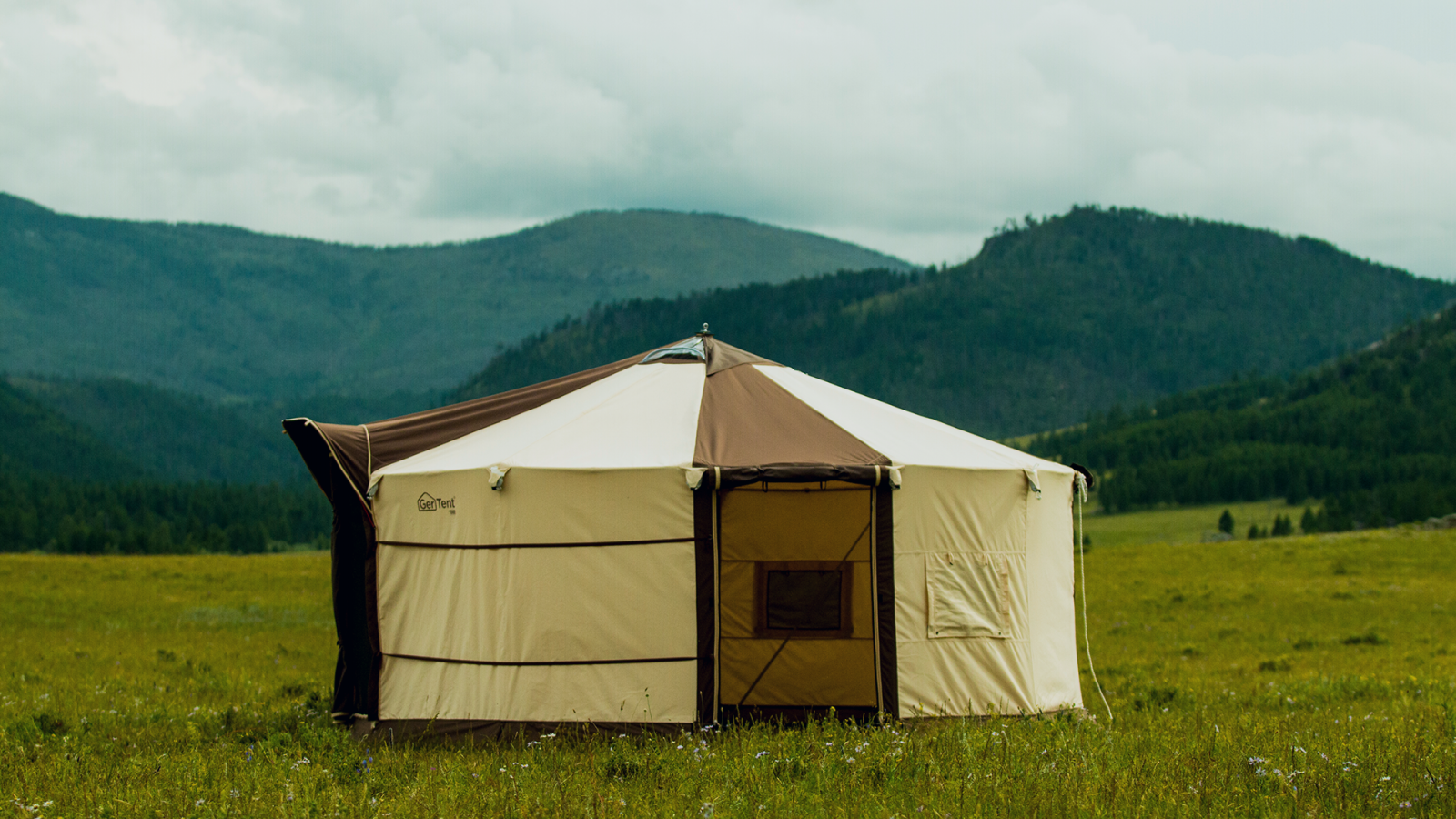 GerTent will go on sale from january 2023
Quality results with us
Developed on the existing sturdy Mongolian ger architectural design
Ease of transportation. It will fit in any vehicle.
Assembled in 15 minutes, disassembled in 10 minutes.
Usable in winter, spring, summer, and autumn. 4 seasons.
Successfully passed water and wind tests.
The round shape allows for optimal air ventilation and even distribution of heat.
There are sleeping area and additional entrance area with four possible doors to the structure. Additional roof cover which can be used as a separate shed.
It is possible to interconnect the GerTents and the sleeping tents.
Usage
YOU CAN BUILD GERTENT:
On top of a mountain
In the plains
On the river shores
On the Gobi sands and variety of beautiful landscapes…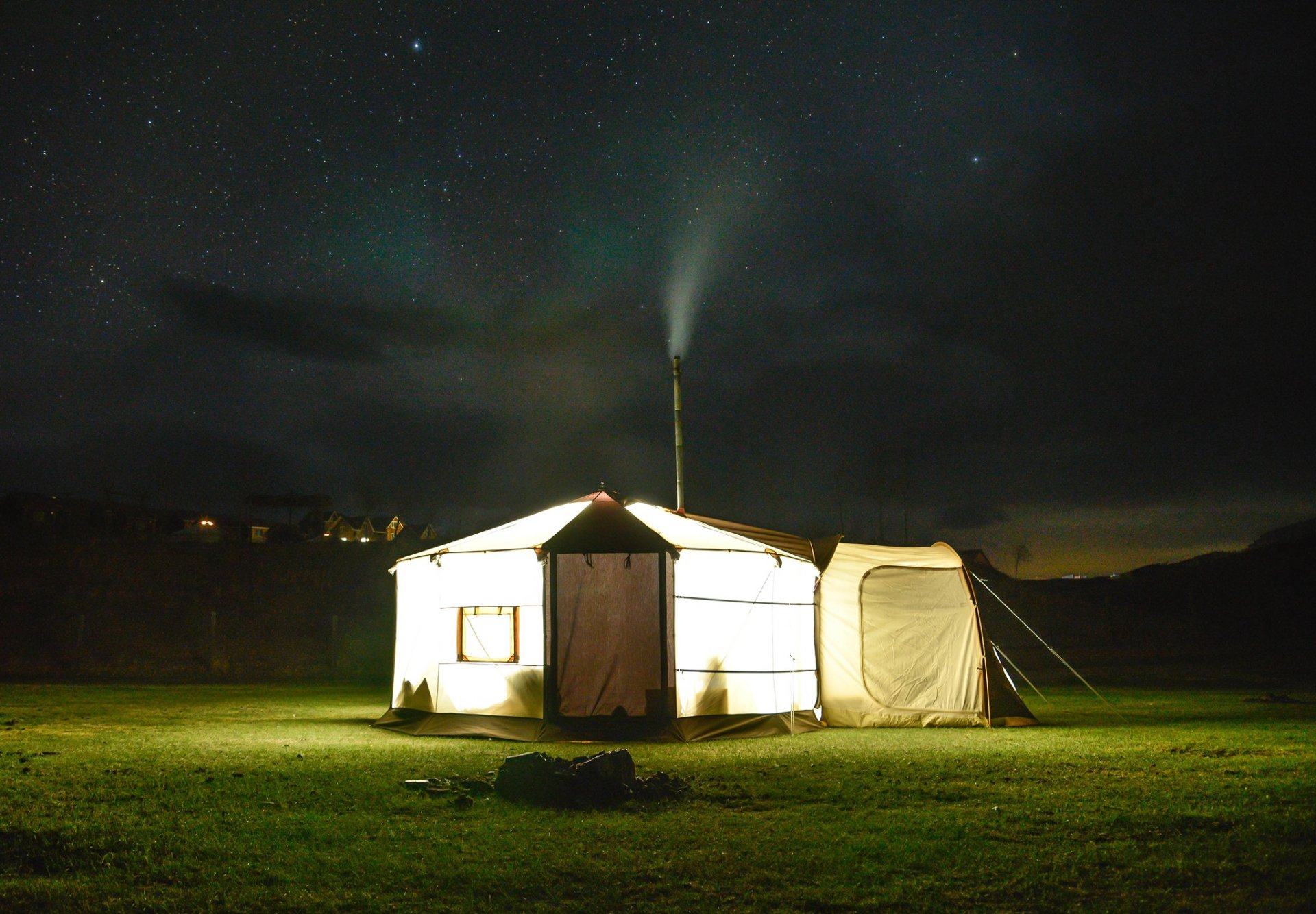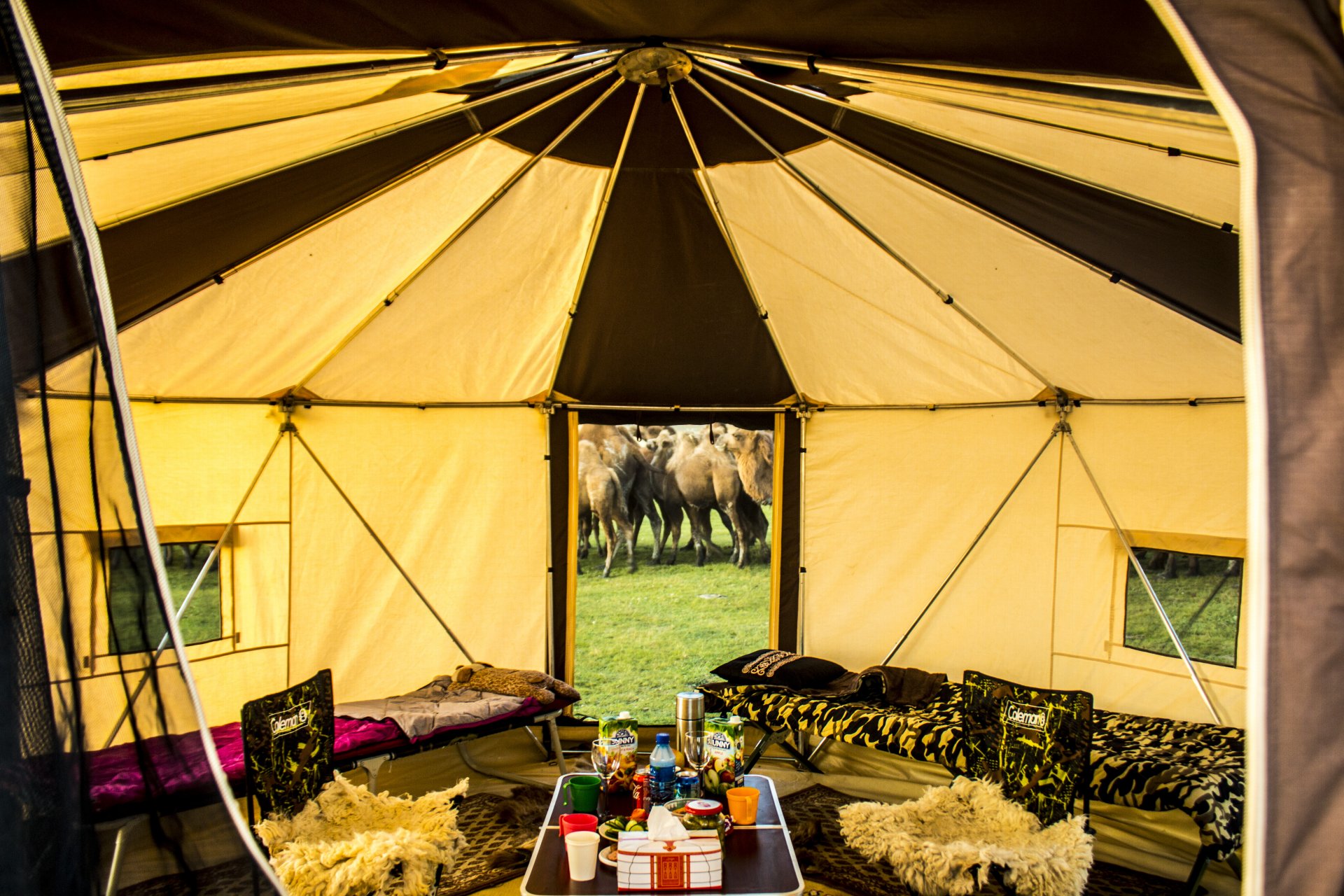 Customers
Nature travelers / Family travelers
Herders and farmers / Hunters / Fishermen
Mountain and extreme sport athletes
Emergency and rescue services
Travel companies
Mining companies
ADDITIONAL USAGE:
To set up a travel BasecampTo build a mining camp
Accomodation for hunters and fishermen to spend night as a group
Travel with many friends and family
In the backyard of the pond house
At the entertainment show and events
Can be used for outdoor exhibition purposes
Diameter: 4M/13ft
Door: 1m(W)*1.8m(H)
Wall Height: 1.6m
Roof Height: 2.3m
Fabric: Poly cotton canvas beige, 300gsm, PU coating, water proof, mildew resistant.
Ground sheet:.540gsm ripstop PVC, waterproof. Beige color. With Zipped in Ground Sheet
Net: 40gsm black, both on door and windows.
Central pole: Dia.22 - 28mm aluminum telescopic pole,1.5mm thickness.
Frame poles: Dia.18mm, 20mm aluminum tube 6061,1.2mm thickness, anodized. All frame is 16kg.
Windows: 2 side windows & 2 vents on the apex, with mesh.
Behind doors: 3 zipper door, zipper Mesh door with flap. 1.6m height.
Front door: 1 main zipper door, zipper Mesh door with flap. 1.8m height.
Rope: Φ6mm Nylon ropes, 1.8m*12pcs; 3.5m*2pcs
Stakes: Φ6mm steel,23cm on length, 30pcs
Product size: 400*400*230/160 cm
Package Size: 125X40X40cm, 100X40X40cm (2 bags)
Weight:Appro. 50kg +-
Capacity: 4m can fit 6-8 person
4-season style: you can install a stove jack to keep warm
Floor and cover:The door and the window has mesh, also there has a zipper in the ground sheet,and the zipper in the ground is SBS brand
Our warranty: 12month
Easy to set up : One person can set up in under 15 min.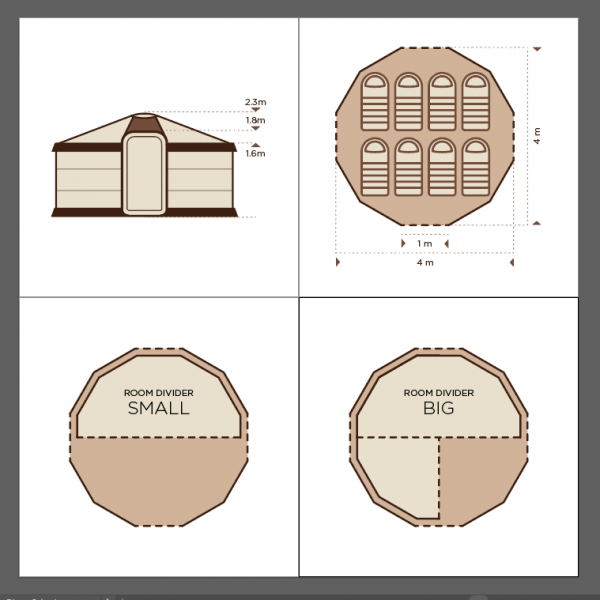 Separated into 2 bags of equal weight
The metal and fabric parts are packaged in 2 separate bags, making it easy to carry. Metal part: 1.25*0.4*0.4 m /25 kg/ - Fabric part and other parts: 1*0.4*0.4 m /20kg/ Total weight 45kg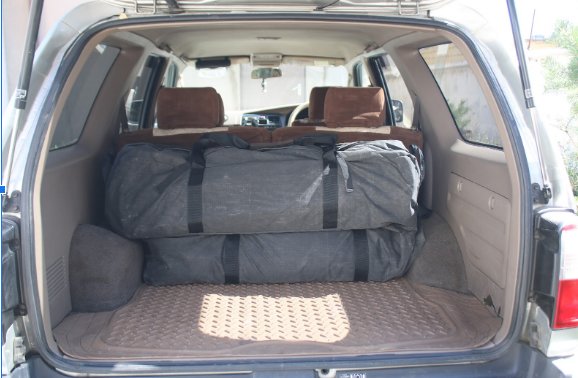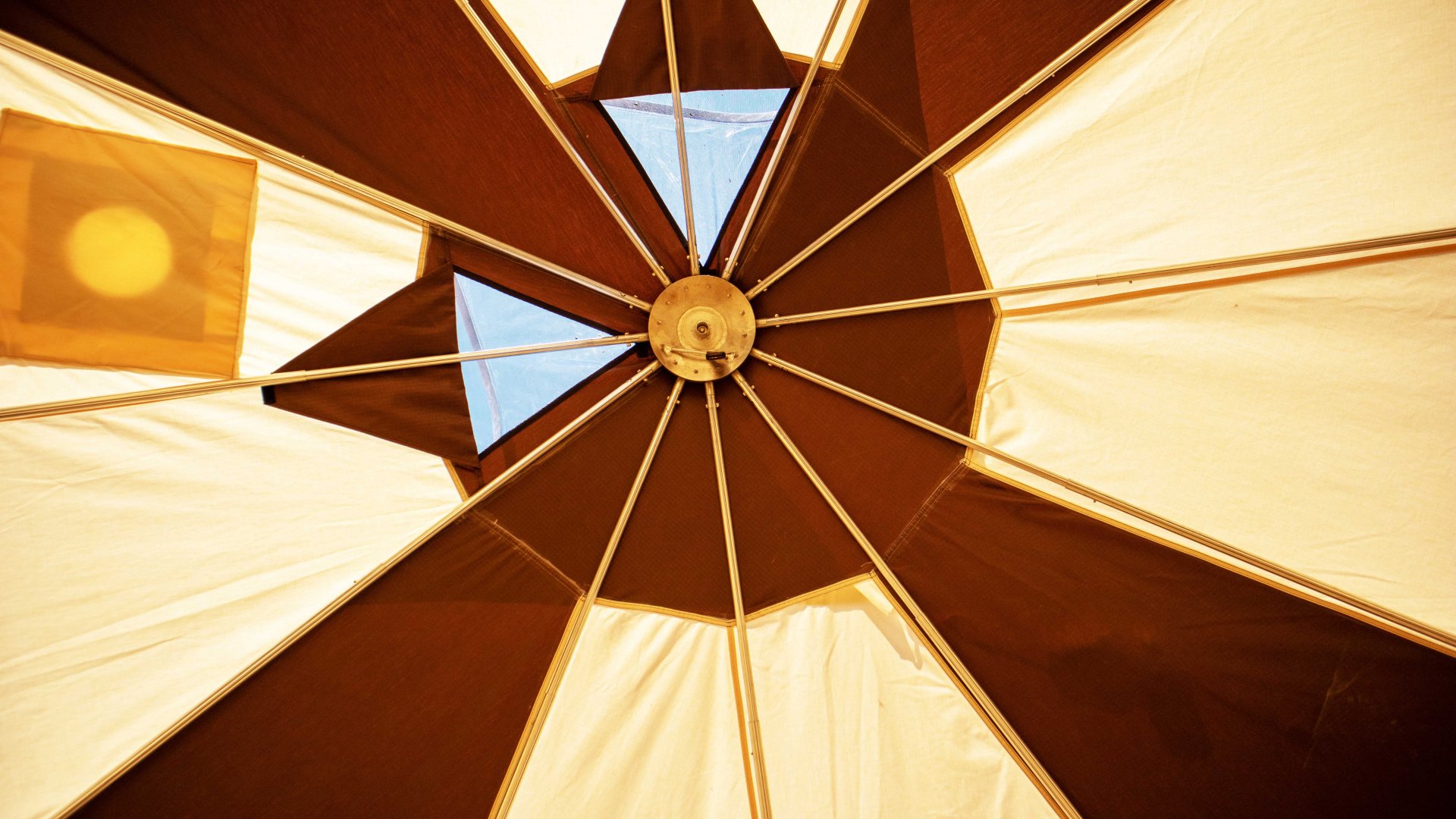 Roof with window
It has a vent on the same as the Mongolian ger
Inside bedroom
You can attach inside bedroom in GerTent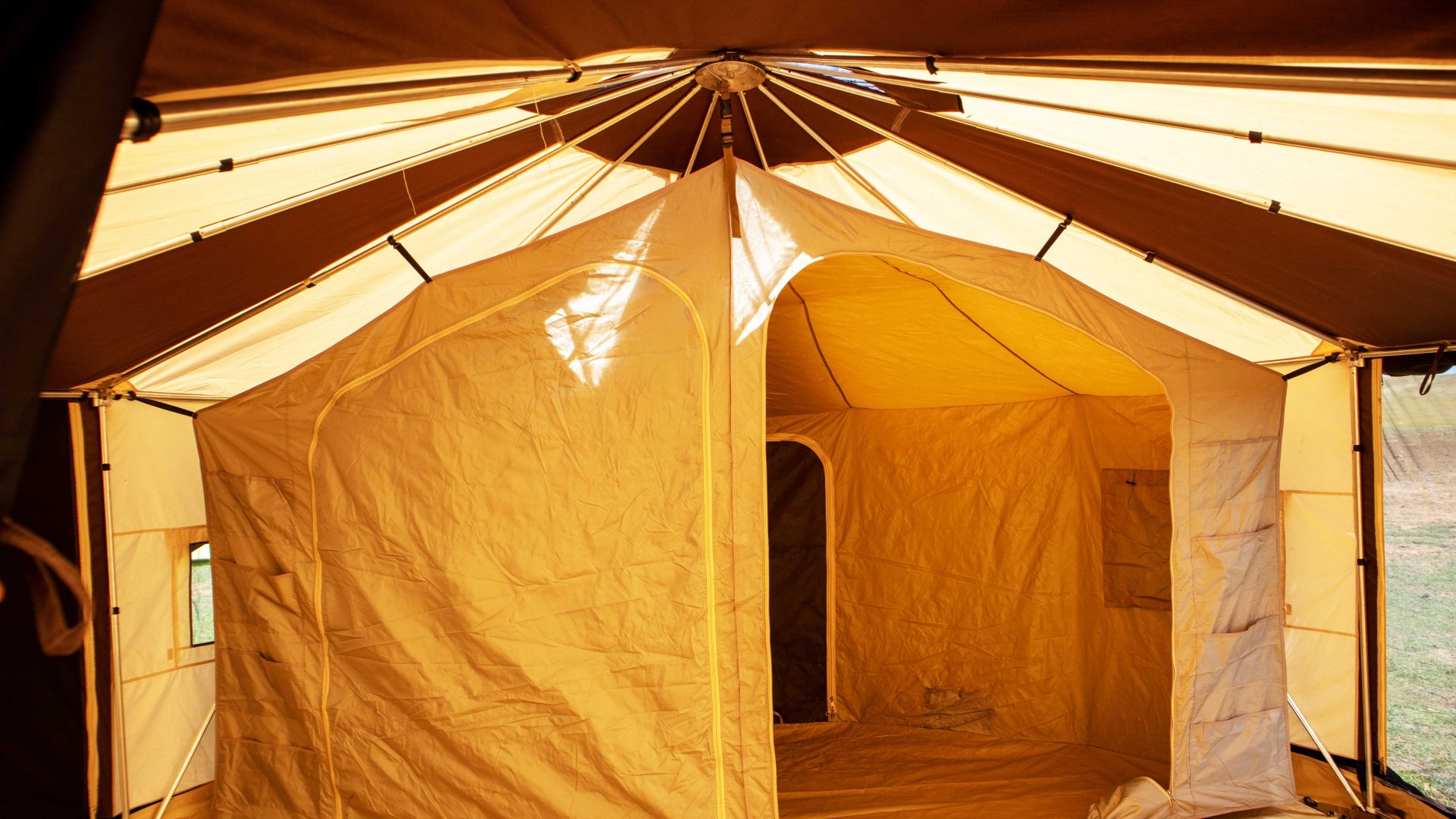 Front porch
You can attach front port into GerTent
Fire stove
You can use fire stove in GerTent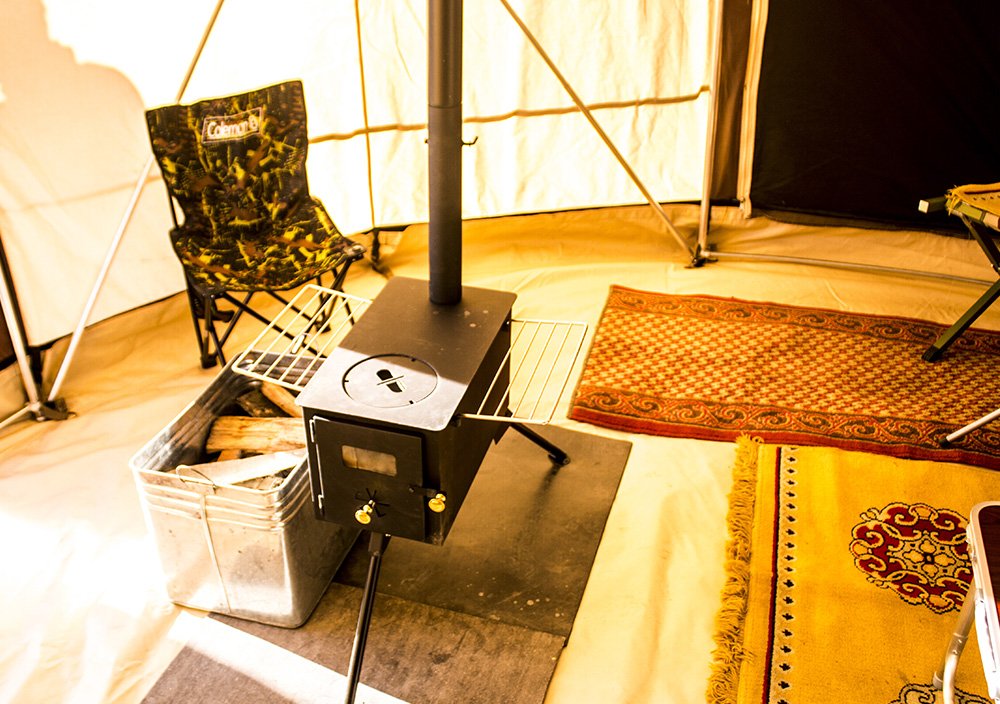 Camp. Relax. Happiness
Comfortable anywhere